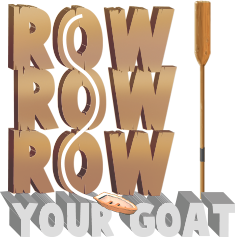 Row Row Row Your Goat
A downloadable game for Windows
Looks like Monkey and Dog are up goat creek without a paddle. Turns out hungry goats aren't the best navigators in the world. Now with only one oar, poor Monkey is going to have a difficult time maneuvering the rapids.
Guide the goat-boat around the river and feed him sandwiches before he eats your last oar! Watch out for obstacles, swift currents, bears and of course, explosions!
Use Left and Right arrows to move and keep an eye out for the clock power-up to cut down on your time. How fast can you get through the five courses?
Controls:
The entire game CAN be controlled using the left and right arrow keys.
To row left, use the left arrow key.
To row right, use the right arrow key.
To advance from the title screen, use the right arrow key.
On the course select menu, use the arrow keys to change which course is selected and star the course by pushing both arrow keys at the same time (you may also select a course using the mouse).
In addition, we offer alternate controls if you do not wish to use the arrow keys. You may use 'a'/'d', 'z'/'x', or 'q'/'p' in place of the left/right arrows.
Made in 72 hours for Ludum Dare 34 by Jodi Slade, John Thrasher, Micha Faw, Jen Thrasher, & Jesse Slade. Special thanks to Richard & Carla for additional testing and ideas.
---
Other games from AFlat Miner Studios
Follow us on Twitter! @AbMinerStudios

...or visit us at AFlatMiner.com
Download
Download
RowRowRowYourGoat_v1.0.exe
19 MB